Madness called Tallinn Music Week
I think I have sobered up enough from the Tallinn Music Week high to actually pour all the emotions into words.
Being involved in Tallinn Music Week myself for past 5 years as a speaker, DJ and 1/5 of Tallinn Daggers, this was literally the first year I could actually take time and visit almost all the shows I wanted as a delegate. The schedule I set for myself was rather overwhelming at first, culminating on Saturday with 5 venues and some of them in parallel, so I seriously considered checking in with recent findings in human cloning research. Luckily, me and my partner-in-music-crimes Mirjam managed to nail the majority of set goals, re-baptising the festival as Tallinn Music Madness already by the end of the first night. Our approach to that musical insanity that took over Tallinn for one weekend was to cherry-pick all the epic musical experiences based on my undeniable skill of turning prejudices into actual facts. So here we go with the list on YAYS and NAYS.
YAYS
I WEAR* EXPERIMENT
IWE is definitely the highlight of the opening party of TMW that was held in Kultuurikatel, a venue that was converted from a beast into a true beauty. IWE sounded big and powerful on a huge stage that turned the 3-piece into a real orchestra in symbiosis with epic light show and their signature IWE LED-lights. As usual, Johanna Eenma's voice was just killing it, paired up with some certain level of magical innocence and mysterious aura that she always creates on the stage. If only their recent album "Patience" would be mixed as well as they sound live.
Here is a sampler from 2013 to get the feeling they give on-stage (IWE's Spring Is Cold This Year was the official soundtrack for the Christmas card sent by the President of Estonia)
P: Martin Lehari
HEY ELBOW
As Friday didn't surprise with anything else really, I move straight to the most epic festival day that was Saturday. Hey Elbow from Malmö, Sweden is no doubt the top 1 artist I have been listening to ever since that fatal Saturday when they stepped on the stage in Kino Sõprus. The second their sound waves hit my ears I was staring at my friend Laura's eyes trying to communicate telepathically "OMG this is the s*it!" We were both so mesmerised by the whole here-we-are-sitting-in-cinema-chairs-drinking-cider-and-experiencing-that-sublime-shoegaze-moment-in-our-lives-together situation. For a second I even questioned my choice of moving Stockholm, followed by a question if I should move to Malmö instead. Apparently, this is where the magic happens as indie/shoegaze scene in Stockholm is literally dead (officially confirmed by my very own two eyes that witnessed depressingly sparse audience at Heavïness concert a few months back). Hey Elbow manages to create magical soundscapes and seas that are neither two shallow nor deep, they are just perfect, combining as-sharp-as-needed vocals by Julia Ringdahl, epic looping skills and horns by Ellen Petersson, and precise-as-hell drum beats by Liam Amner. It was fun to watch how people tried to get his beat for Alice, tapping their fingers on their knees or silently stomping their feet under chairs. Yes, I am still captivated by the whole experience of my wildest shoegaze-y dreams materialising in a Soviet movie theater in my home town Tallinn and I won't stop listening to Hey Elbow anytime soon.
P: Madis Särglepp
LIIMA
This was a god sent gift from Finland/Denmark after lobotomy performed by Zohara, a band from Israel that was good on idea level but failed massively in execution. Rumours of Liima's epicness roamed around Tallinn for days, attracting a considerable amount of hipsters and lobsters (special kind of hipsters) to good old Kino Sõprus that was beyond packed when the  guys stepped on the stage. Liima's success is guaranteed by the fact that the band comprises of an awesome Finnish percussionist Tatu Rönkkö (he is big friends with jars, pots and pans when it comes to creating beats) and Mads, Casper and Rasmus from Efterklang. The moment  Casper opened his mouth to greet us all with vocals from Your Hear, we were instantly owned. If there is such thing as stage presence, Liima is the equivalent of stage presence. To be honest, I have never seen a vocalist who is in such a strong connection with lyrics, emotions, visuals and the audience. Yes, that swirl of Putin, Merkel, the flags of Estonia and Europe cannot be unseen, ever. And if you happened to be the victim of Casper's finger pointing and his long stare, you had a hole burned into your soul. I wear it with pride. Although I get usually carried away by the anticipation for my favourite track (513 for sure), it didn't happen this time as the whole concert was such a strong unity from the beginning to the end. This concert was, yet again, followed by a long-long stare into Laura's eyes which tried to communicate the feeling of hopelessness and hopefulness at the same time. I think this is the musical equivalent of cuteness aggression.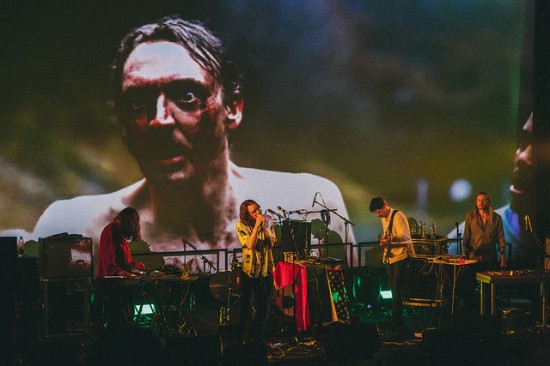 P: Madis Särglepp  
ME AND MY DRUMMER
We managed to see Me and My Drummer at Velvet design agency's amazing new office at Telliskivi Loomelinnak, which kicked my office-envy into overdrive. Me and My Drummer approached the "assignment" quite differently when it comes to comparing their live tracks to recordings. But that was the key to magic. It was a perfect combination of afternoon sun glittering through huge windows, yearning Americana tunes and Charlotte's super passionate vocals. Their synthesis of indie and pop in Pentonville Road makes me want to send that track to Eurovision to make people see what good pop music is really sounds like. Is that bad?
P: Diana Pashkovich
LEYYA
Leyya is a musical puzzle of epic samples, backtracks and charmingly lazy vocals from Vienna. That experimental electronic pop duo was another super nice, but rather dark experience at Kino Sõprus. Their Brando kept hunting me for days.
P: Madis Särglepp  
KRIGET!
When guys from Kriget ran onto the stage, I couldn't believe my eyes and my compass of prejudice stopped working. Nothing good ever comes from guys wearing Adidas three stripe pants and headscarves, right? I have never been so nicely musically abused, I must say. And their visuals were, yet again, killing the game.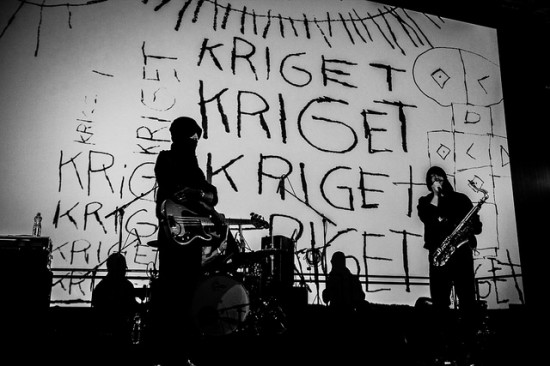 P: Diana Pashkovich
DEEP SHOQ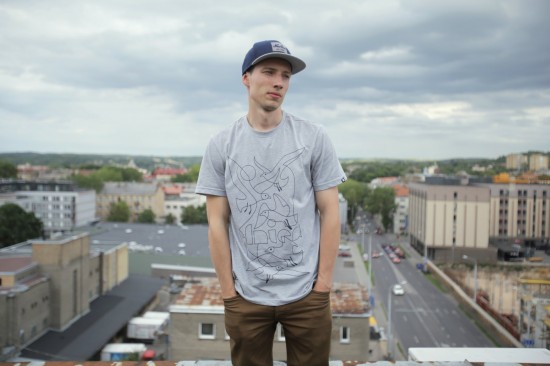 We saw our good old Balticlab friend Donatas from Lithuania, who goes by the name of Deep Shoq on-stage and Donuts when he is extra cute, on the Jooks city stage on Sunday morning (15:00 still qualifies as morning, right?). Definitely best broken beats and synth tunes of the festival. He is someone to keep an eye on as he has already been featured on King Britt's BBC Radio 1 guest mix for Benji B. Boom! I believe he was one of the artists who should have performed at Seaplane Harbour.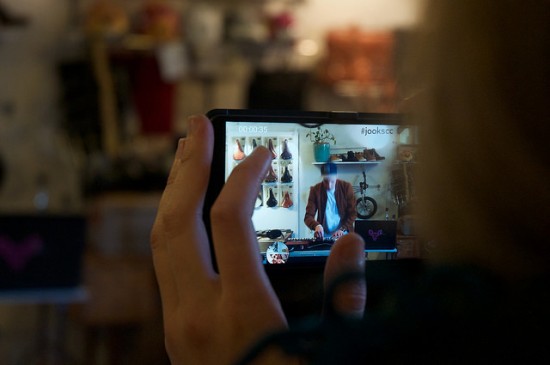 P: Martin Lehari  
LIGHT TECHNICIANS
Nope, this is not a band. This is me thinking that light technicians don't get enough credit for the amazing job they do. At Tallinn Music Week I was amazed at every venue I went, how they managed to create a fourth dimension for everybody to experience. Good job, guys!
SEAPLANE HARBOUR
Although the electronic music showcase wasn't something I enjoyed with my ears, I did very much so with my eyes. Magical experience, and I hope that more and more concerts will be held there.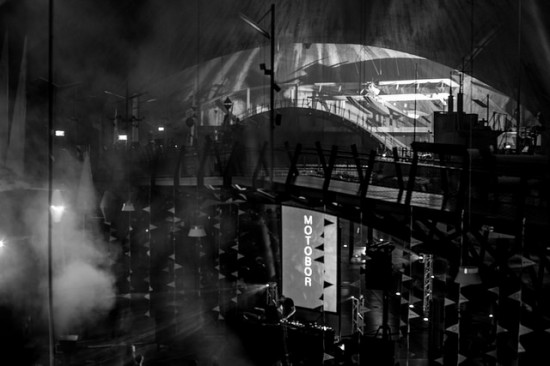 P: Diana Pashkovich
NAYS
SHORT GIRLS WITH DANCING PONYTAILS
Hair in my face, constantly. Just no.
SHORT GIRLS WITH BACKPACKS
Nope, nope and nope.
ZOHARA
I really wanted to like that band from Israel. But after feeling lobotomised by their brain drilling live performance and its intensity, I went home to confirm the fact by listening to their recordings. They were actually quite good! So please-please-please do something with the overwhelming amount of tunes, samples and clatter in your live sets. I have never felt so exhausted by music.
KEYMONO
I just can't. Or. I just don't understand that Lithuanian band now based in London. Everything they went for seemed like weird homage to 90′s pop. And not in a good way.
JAAKKO EINO KALEVI
This will be by far the most unpopular nay is this list, and many people might be surprised by that positioning. Maybe it sounds weird, but I really tried to like him, because I love some of his tracks a lot. But I think Jaakko's performance at Off-Flow showcase was a little weak regards the sound and the stage presence. I get that this Scandinavian I-seemingly-don't-care attitude is a thing, but for me it killed the magic. This detachment was somewhat compensated by the amazing work the light technicians did and, I am not tired of repeating, the epicness of Kultuurikatel as a concert venue.
24 HOURS A DAY
Why can't there be more hours? Helen Sildna, do something.
All in all, Tallinn Music Week was a magical experience packed with interesting discussion panels at the conference (especially Intelligent Brands starring Brigid Walsh from Vogue), some really-really good performances, superb tastes at selected restaurants and the vibe nearly 1000 delegates gave to the city. This is something I would like to feel in Tallinn every time I return. The buzz and interesting conversations with people from all around the world. I'm extremely excited to see what the TMW team comes up with next year. Maybe 26h in a day and free energy shots for delegates would be a nice addition?
P: Kasia Syramalot
Stay tuned for part 2, an interview with Kerli Kõiv.